Brand: Justrite®
Series: Type-I – Trigger Handle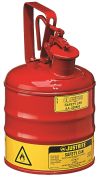 10301
Description: Type-I safety cans with trigger handle for flammables
Colour: Red
Model:
#10001
Capacity: 1 pint
Size: 4-3/8"OD x 6-3/4"H
Approv/Lstg Regulation: FM, UL/ULC, TÜV
#10101
Capacity: 1 quart
Size: 4-3/8"OD x 8-1/4"H
Approv/Lstg Regulation: FM, UL/ULC, TÜV
#10301
Capacity: 1 gallon
Size: 7-1/4"OD x 11-1/2"H
Approv/Lstg Regulation: FM, UL/ULC

Features & Benefits:
Rugged 24-gauge premium coated steel body and handle are chemically-resistant to handle gasoline, diesel fuel, kerosene and a variety of other chemicals.
Durable, high gloss powder paint finish resists solvents, acids and alkalies and minimizes the effects of corrosion and humidity. In abusive environments, the special paint formulation with extra UV protectant resists fading. Hardness factor stands up to rough use for extended service life.
Reinforcing ribs strengthen the side walls for extra "bumper guard" protection in tough environments.
1/2" (13mm) raised bottom resists accidental punctures when placed on uneven surfaces and doubles as a grip lip for support when pouring. Unique echo-patterned rib design offers additional strength and rigidity.
Double lock seams at base and top offer four thicknesses of steel for extra "bumper guard" protection against accidental bumps and bangs.
Heavy steel spout is welded to dome for a high resistance to nicks or dents.
Designed with a single spout for filling and pouring, the self-closing, leak-proof lid controls vapors and provides security from spills and leaks, it also features automatic positive-pressure relief that vents between 3 and 5 psig (0.2 and 0.35 bar) to guard against rupture or explosion.
FM-tested, 3-1/2" (88mm) long chemical resistant stainless steel flame arrester which reliably dissipates heat to stop flashback ignition. The longer length allows secure insertion of gas nozzle for easy filling.
Trigger release handle.
Trilingual warning label in English/Spanish/French.
100% tested to guarantee leak-proof construction.
1-Gal. can has ample headspace to accommodate oil additives for two cycle engines.
Optional 1 pint or 1 quart models in yellow colour – using colour coding in your storage practices helps identity, organize, and segregate liquids.
Complies with OSHA 29 CFR 1910.106 requirements.
Complies with National Fire Protection Association (NFPA) Code 30 requirements.
Accepted container under California Air Resources Board (CARB) Title 13.
Approval/Listing and Regulation Key:
FM – FM Global tested and approved
UL/ULC –Underwriters Laboratories listed in the U.S. and Canada
TÜV –TÜV Technical Inspection Association Certified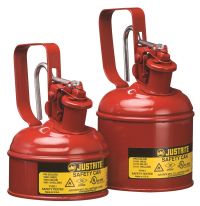 10001 and 10101