Brand: Justrite®
Model: 09200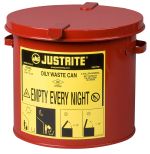 Description: Countertop oily waste can for flammable waste materials
Colour: Red
Capacity: 2 gallons
Size: 9-5/8"OD x 9-1/8"H
Approv/Lstg Regulation: FM

Features & Benefits:
Durable galvanized steel construction with a powder-coat finish provides chemical resistance and for long life.
Hand-operated cover.
Warning label with pictographs reduces miscommunication.
100% tested to guarantee leak-proof construction.
Optional #09200Y in yellow colour – use colour identification to help segregate different types of waste rags and wipes or to differentiate multiple work shifts or departments.
Approval/Listing and Regulation Key:
FM – FM Global tested and approved