Brand: Justrite®
Series: EN 90-Minute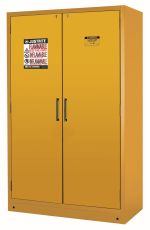 22607 with optional 22637 base cover
Description: Safety storage cabinets for flammables with 90 minutes of extreme fire resistance
Colour: Yellow
Door/Style: 2 hybrid close doors
Approv/Lstg Regulation: EN, FM, N, O, A
Model:
#22605
Capacity: 30 gallons
Shelves: 3 (Model #22630, size: 29.21"W x 17.3"D)
Size: 76.89"H x 35.16"W x 24.21"D
#22607
Capacity: 45 gallons
Shelves: 3 (Model #22631, size: 41.02"W x 17.3"D)
Size: 76.89"H x 46.97"W x 24.21"D

Features & Benefits:
Fire-resistant design protects volatile contents for 90-minutes, allows increased evacuation time and gives emergency responders additional critical minutes for controlling the fire before it reaches flammable contents, greatly reducing the spread and severity of the fire.
Constructed using multiple layers of fire-resistant gypsum (calcium sulfate) and mineral fiber insulation to help achieve 90-minutes of fire resistance.
Robust, steel construction with heavy-duty, triple-hinged doors. Easy-to-clean, attractive textured powder coat finish – scratch resistant and impact resistant for long life.
Under fire conditions, intumescent strips expand and hermetically seal all gaps to reduce heat entering the cabinet, providing 90-minutes of content protection and extended evacuation time.
Innovative hybrid style doors operate manually and stop in any position, but in the event of a fire, the built-in fusible link system will melt and release to allow automatic closure of doors at 122 degree F (50 degree C).
Door dampers allow you to adjust the force needed to open the doors for most comfortable operation.
Removable bottom cabinet sump with detachable perforated insert features 3-sided lip seal which funnels leaks or spills from contents on shelves into the sump. Containers placed on top of insert never sit in spilled liquid captured in sump below.
Powder-coat finish steel shelves adjust on 1-1/4" (32mm) increments and have a load capacity of 165-lbs (75-kgs). Shelves with 1" (30mm) high ledge prevent small containers from easily sliding off to avoid breakage or uncontrolled spillage.
Haz-Alert™ reflective warning labels on front of door are highly visible under fire conditions or during power outages when illuminated with a flashlight.
Ground connection is possible if required by local authorities.
Mandatory air vents per EN 14470-1. Vent butterfly valve closes securely at 158 degree F (70 degree C) in the event of a fire. Vent system accepts an exhaust air pipe or recirculating air filter. Vents include flame arresters and caps for FM compliance.
Independent cylinder-locks on each door protect against unauthorized use and feature an integrated locking state indicator (red/green).
Bright interior colour offers maximum visibility to contents – minimizes mistakes in container selection.
Integrated transport base makes it easy to reposition empty cabinets. Accepts optional removable base cover.
Adjustable leveling feet for stability on uneven surfaces.
Approval/Listing and Regulation Key:
EN – Complies with European standards EN 14470-1 and EN 14727
FM – Tested and approved by FM Approvals
N – Complies with National Fire Protection Association (NFPA) Flammable and Combustible Liquids Code 30
O – Complies with Occupational Safety and Health Administration (OSHA) Regulations
A – Complies with NFPA 1 Fire Code - 2012 Edition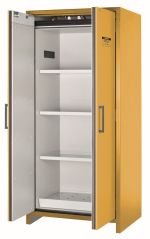 22605