Brand: Justrite®
Series: Sure-Grip® EX – Slimline 22-Gal.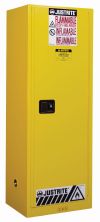 892200
Description: Safety storage cabinets for flammables
Colour: Yellow
Capacity: 22 gallons
Shelves: 3 (Model #29936, size: 19-5/8"W x 14"D)
Size: 65"H x 23-1/4"W x 18"D
Model:
#892200
Door/Style: 1 manual close door
Approv/Lstg Regulation: FM, N, O
#892220
Door/Style: 1 self-close door
Approv/Lstg Regulation: FM, N, O, U

Features & Benefits:
Double-wall construction with 1-1/2" (38mm) insulating air space.
Sturdy 18-gauge (1mm) steel, fully welded, not riveted, construction holds squareness for longer life; door astragal provides extra sturdiness and offers greater protection in a fire since air gaps are reduced.
Durable and chemical-resistant, lead-free powder-coat paint finish, inside and out, retains high gloss look and minimizes the effects of corrosion and humidity.
Continuous piano door hinge provides smooth closure.
Exclusive U•Loc™ handle includes two keys and accepts an optional padlock for convenience and security. Easy fingertip operation with slip resistant grip for greater control.
Patented three-point, stainless steel bullet self-latching system provides easy, fail-safe, positive door closure with increased heat resistance.
Rounded safety corners on door.
2" (51mm) leak-proof containment sump holds leaks and meets EPA requirements.
Exclusive highly visible Haz-Alert™ reflective warning labels are strategically positioned in high and low zones to quickly identify volatile liquids in visually impaired conditions. This makes it easy to see, whether firefighters are making an investigative walk-thru or crawling in a smoke filled area.
Dual 2" (51mm) vents with built-in flame arresters strategically placed at bottom and opposite top.
Patented SpillSlope® safety shelves direct spills to back and bottom of leak-proof sump. Adjustable on 3" (76mm) centers for versatile storage, they meet ANSI MH28.1 standards with a 350-lb (159-kg) safe allowable load.
Welded shelf hangers interlock with shelf to offer maximum "nonslip" stability with no flimsy brackets to lose.
Four adjustable leveling feet make it easy to balance cabinets on uneven surfaces.
Built-in grounding connector prevents static buildup and it's placed on outside side panel for easy grounding (optional ground wire #08500).
Self-closing style features patented, concealed self-close mechanism to provide obstruction-free access to top shelf space.
Self-close style features fusible links to hold door wide open and melt at 165 degree F (74 degree C) for automatic closure.
Optional colours: Red, Gray and White – using colour coding in your storage practices helps identity, organize, and segregate liquids.
Approval/Listing and Regulation Key:
FM – FM Global tested and approved
N – Designed in accordance with National Fire Protection Association (NFPA) Code 30 regulation
O – Complies with OSHA regulations
U – Complies with either the International Fire Code or NFPA 1 Fire Code