Brand: Topsafe™
Model: SE1150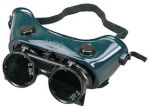 Description: Flip front welding goggle
Size: N/A
Colour: Dark Green

Features & Benefits:
Soft, flexible vinyl frame.
Indirect vents located above and below the lens allow for proper ventilation to help reduce fogging.
50mm round polycarbonate green shade 5.0 flip front lens, can switch from welding to chipping for easy inspection.
Comfortable and easily adjustable elastic strap ensures a secure fit every time.
Standard:
Complied with CE EN175
Complied with ANSI Z87.1