Brand: Moldex®
Series: 9000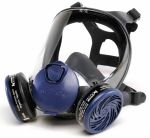 9002 with 7100
Description: 9000 Series dual-cartridge full mask respirator
Model / Size:
#9001 (Small)
#9002 (Medium)
#9003 (Large)
Colour: Grey

Features & Benefits:
100% PVC Free.
At less than 13 ounces, the 9000 Series respirator is ultra-lightweight. Workers will appreciate the comfort and longer wear ability and employers will benefit from increased user acceptance.
A convenient ratchet fastening strap system and the stand away head harness make putting the 9000 mask on and taking it off quick and easy. The strap tabs are securely molded directly to the flange for rugged use.
The 9000 boasts an extra-wide viewing lens, with an exclusive over-molded flange design. This eliminates the traditional clamping frame found on most other face pieces.
Lens meets ANSI Z87+ for high impact requirements, it stays away from flat surface when laid down to avoid scratching.
Tear away lens protector included.
The 9000 is completely metal-free, making it ideal for mines, refineries and other work environments where metal may be hazardous.
Integrated exhale area with attached cover. Fewer parts, simple maintenance and inspection.
Easy mount bayonet cartridge/filter attachment.
To be used with Moldex® 7000 Series cartridges, filters and retainers.
Advanced design eliminates unnecessary parts. Over-molded flange and harness tabs, plus integrated exhalation assembly, make cleaning and maintaining the 9000 Series respirator a breeze.
Standard:
NIOSH approval

9000 Series approved respirator combinations
Use any 7000 gas/vapor cartridge.
Use #8910 N95 or #8970 R95 pre-filter with the #7020 pre-filter retainer with any 7000 gas/vapor cartridge.
Use the #7940 P100 filter disk or #7950 P100 filter disk plus nuisance OV/AG, or the #7960 P100 filter disk plus nuisance OV as stand-alone filters.
Use the #7940 P100 filter disk with the #7920 piggyback adapter with any 7000 gas/vapor cartridge.
Use the #7999 splash and spark disk cover for filter protection.
7000 Series gas/vapor and particulate cartridges
#7100 – Organic vapors
#7200 – Acid gases
#7300 – Organic vapors/acid gases
#7400 – Ammonia/methylamine
#7500 – Formaldehyde
#7600 – Multi-gas/vapor Smart® cartridge
#7990 – P100 particulates
7000 Series particulate filters and retainers
#8910 – N95 particulate filter
#8970 – R95 particulate filter
#7940 – P100 filter disk
#7950 – P100 filter disk with nuisance OV/AG
#7960 – P100 filter disk with nuisance OV
#7020 – Pre-filter retainer
#7920 – Piggyback adapter
#7999 – Splash and spark protector cover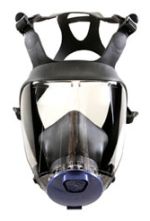 9002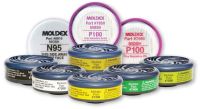 7000 Cartridges & Filters