Brand: 3M
Model: 1110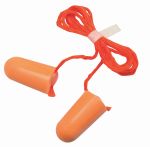 Description: Disposable corded foam earplugs
Size: N/A
Colour: Orange

Features & Benefits:
Soft, hypoallergenic PU foam earplugs that conform to the unique shape of each ear for excellent hearing protection and comfort.
Tapered design to fit comfortably in the earcanal.
Smooth, dirt resistant surface provides better hygiene.
Easy to roll down for quick and easy fitting.
Comfortable cloth cord for easy short term storage around the neck and it helps to minimize loss of earplugs.
Noise Reduction Rating (NRR) 29 dB, CSA Class AL.
Standard:
ANSI S3.19-1974
Approved by Hong Kong Labour Department