Brand: Moldex®
Series: SparkPlugs®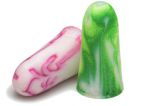 6604
Description: Disposable foam earplugs (uncord or corded)
Size: N/A
Colour: Coloured streaks and swirls
Model:
#6604 (Uncorded)
#6654 (Corded)

Features & Benefits:
100% PVC-Free.
SparkPlugs® are made of extra-soft, low-pressure foam for comfort and fit.
Tapered shape fits easily in the ear canal, and seals gently and snugly without pressure.
Shaped to fit even very small ear canals.
Non-irritating smooth surface.
SparkPlugs® offer a high noise reduction rating (NRR) 33 dB., making them suitable for most noisy environments.
Model #6654 with cord for easy short term storage around the neck and it helps to minimize loss of earplugs.
Standard:
ANSI S3.19-1974
Approved by Hong Kong Labour Department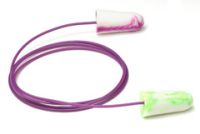 6654