Brand: E-A-R™
Series: Classic™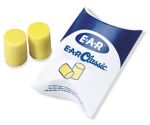 310-1001
Description: Disposable foam earplugs (uncord or corded)
Size: Regular
Colour: Yellow
Model:
#310-1001 (Uncorded, pillow pack)
#311-1101 (Corded, polybag pack)

Features & Benefits:
Classic™ earplugs set the standard in hearing protection as the world's first foam earplugs.
Slow recovery, low pressure PVC foam conforms to the shape of the ear canal for enhanced comfort and wearability.
Moisture-resistant – helps maintain a consistent expansion time, even in humid environments.
Cylinder shape equalizes pressure throughout the ear canal as it expands; prevents shifting and keeps effectiveness of noise seal constant.
Flame resistant – important for potential arc flash situations and for storage considerations.
Washable - can be washed in a mild detergent and air dried several times without deteriorating or losing their attenuation values.
Noise reduction rating (NRR) 29 dB. CSA Class AL.
Model #310-1001 packaged in convenient reusable pillow pack to promote reuse and it helps keep earplugs clean when they are not being worn.
Model #311-1101 with vinyl cord for easy short term storage around the neck and it helps to minimize loss of earplugs.
Standard:
ANSI S3.19-1974
Approved by Hong Kong Labour Department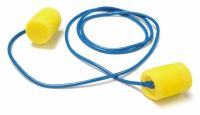 311-1101