Brand: Topsafe™
Model: SH0411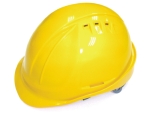 Description: UV-resistant ABS safety helmet
Size: 52-64 (cm)
Colour: White, Yellow, Red, Blue, Orange

Features & Benefits:
UV-resistant ABS material shell.
Adjustable ratchet system provides easy, secure, on-the-head sizing.
6 direct-vents shell provide excellent ventilation.
Streamline design with rainwater trough.
Short peak for wide vision.
Universal accessories slots for use with a wide variety of eye, face & hearing protective equipment.
8-point nylon suspension headgear.
Detachable, breakable, replaceable "Y" shape chin strap (chin strap with chin cup is available).
Chin strap meets the requirement of CE EN397:2012+A1:2012 safety standard.
Incorporated a removable, replaceable, washable sweatband.
Custom imprinting by pad printed available.
Standard:
Meets CE EN397:2012+A1:2012 Safety Standard.