Brand: Rubberex™
Model: NEO400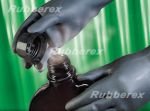 Description: Chemical resistant neoprene gloves
Size: S – XL
Colour: Black

Features & Benefits:
Super Neoprene glove is made from high grade chloroprene rubber compound offering excellent protection against acids, solvents, oils and grease, abrasion, tear, cuts, and punctures.
Premium grade soft cotton interior lining for wearers comfort.
Minimal finger fatigue.
Diamond grip pattern design on palm surface provide excellent grip when handling solvents.
Extended length: 330mm +/- 10mm.
Thickness: 0.68mm +/- 0.03mm.
Standard:
CE EN 388:2003 (Mechanical)
3 – Abrasion resistance ( 0-4 )
1 – Blade cut resistance ( 0-5 )
1 – Tear resistance ( 0-4 )
1 – Puncture resistance ( 0-4 )
CE EN374-3:2003
6 – 40% sodium hydroxide
5 – 96% sulphuric acid
2 – Methanol