Brand: Topsafe™
Model: RNF-15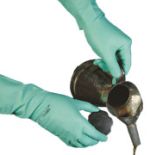 Description: Chemical resistant nitrile gloves
Size: S – XL
Colour: Green

Features & Benefits:
Super Nitrile glove is manufactured from premium grade acrylonitrile butadiene compound with outstanding resistance against solvents, oil, fats and bleaching chemical agents.
Specially formulated for improved dexterity.
Minimal finger fatigue.
Diamond grip pattern design on palm surface provide excellent grip when handling solvents.
Flocklined interior for comfort.
Silicon and wax free.
Length: 330mm +/- 10mm.
Thickness: 0.38mm +/- 0.03mm / 15-16 mils.
Food Safe - CE & FDA compliance.
Standard:
CE EN 388:2003 (Mechanical)
4 – Abrasion resistance ( 0-4 )
0 – Blade cut resistance ( 0-5 )
0 – Tear resistance ( 0-4 )
2 – Puncture resistance ( 0-4 )
CE EN374-3:2003
6 – 50% sodium hydroxide
2 – Methanol
6 – Heptane