Brand: Elvex®
Model: HG-25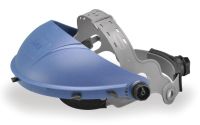 Description: UltiMate™ headgear
Size: N/A
Colour: Blue

Features & Benefits:
Headgear with browguard of High Density Polyethylene for industrial applications, melting point of HDPE is 248 degree F (120 degree C).

Universal pattern swivel locks accommodate the hole pattern on most brands of faceshields and mesh screens.

Ratchet adjusts for head circumference, suspension has pin-lock adjustment for head height.

UltiMate™ has two stop positions, one to keep shield firmly in place overhead, the other to hold it firmly in front of the face.

Soft terry cloth brow pad, and neck pad for extra comfort.

Rear neck band has swivel points (2) to provide a head hugging fit.

To combine with Elvex faceshield, universal fixing.
Standard:
Complied with ANSI Z87.1-2010

Accessories:
Model: FS-15PC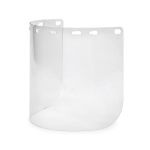 Description: Clear Molded cylinder polycarbonate faceshield
Size: 8" x 15.5" x .078"
Standard:
Complied with ANSI Z87.1-2010(+)