Brand: Delta Plus
Model: BALBI2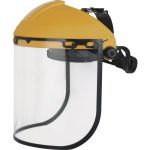 Description: Headgear with faceshield
Size: Adjustable
Colour: Yellow

Features & Benefits:
Plastic headgear with brow protection.

Slide-lock crown strap and ratchet suspension offer customization to individual wearers.

Incorporated a sweatband.

Molded clear polycarbonate faceshield provides impact protection.

Faceshield is designed to protect the face and eyes against particles projected at high speed, from medium energy impacts (120 m/s).
Standard:
Meets CE EN166 Personal eye-protection – Specifications
1BT: Oculars marking

3BT: Frame marking

Accessories:
Model: VISOR PC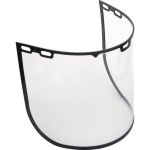 Description: Molded clear polycarbonate faceshield with plastic edge
Size: 39 x 20 (cm)
Standard:
Meets CE EN166 Personal eye-protection – Specifications