Brand: Justrite®
Series: Oily Waste Cans – SoundGard™, Foot-Operated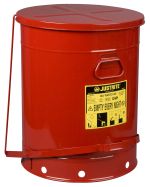 09708
Description: Oily waste cans with SoundGard™ foot-operated cover for flammable waste materials
Colour: Red
Approv/Lstg Regulation: FM, UL, TÜV
Model:
#09108
Capacity: 6 gallons
Size: 11-7/8"OD x 15-7/8"H
#09308
Capacity: 10 gallons
Size: 13-15/16"OD x 18-1/4"H
#09508
Capacity: 14 gallons
Size: 16-1/16"OD x 20-1/4"H
#09708
Capacity: 21 gallons
Size: 18-3/8"OD x 23-7/16"H

Features & Benefits:
Durable galvanized steel construction with a powder-coat finish provides chemical resistance and for long life.
Foot-operated cover provides hands-free opening, and gravity-close to reduce oxygen and prevent a fire from starting.
Specially designed lid features an UL required opening of no more than 60 degrees and stays closed when not in use, isolating contents from fire sources and limiting oxygen so spontaneous combustion risk is virtually eliminated.
SoundGard™ cover – incorporate a specially designed, sound muffling pad inside the lid to significantly reduce closure noise approximately 200% over standard oily waste cans.
One-piece cover facilitates use of disposal collection bags.
Swinging carry handle for portability.
Reinforcing ribs protect sides from dents and abuse.
Round construction and elevated bottom encourage circulation of air around can to disperse heat and reduce moisture buildup and rusting.
Warning label with pictographs reduces miscommunication.
100% tested to guarantee leak-proof construction.
Optional models in silver colour – use colour identification to help segregate different types of waste rags and wipes or to differentiate multiple work shifts or departments.
Approval/Listing and Regulation Key:
FM – FM Global tested and approved
UL –Underwriters Laboratories listed
TÜV –TÜV Technical Inspection Association Certified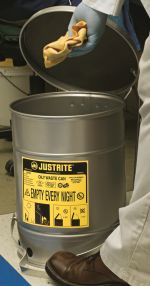 09104 (silver 6-Gal. model)