Brand: Justrite®
Model: 09410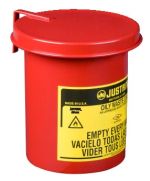 Description: Mini benchtop oily waste can with SoundGard™ cover for flammable waste materials
Colour: Red
Capacity: 0.45 gallon
Size: 4-5/8"OD x 6-1/2"H
Approv/Lstg Regulation: FM

Features & Benefits:
Durable galvanized steel construction with a powder-coat finish provides chemical resistance and for long life.
Hand-operated cover.
SoundGard™ cover – incorporate a specially designed, sound muffling pad inside the lid to significantly reduce closure noise.
6-1/2" (165mm) tall accepts standard long cotton-tip applicators.
Trilingual warning label in English/Spanish/French.
100% tested to guarantee leak-proof construction.
Approval/Listing and Regulation Key:
FM – FM Global tested and approved