Brand: Topsafe™
Model: SE2720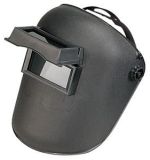 Description: Flip front welding helmet
Size: N/A
Colour: Black

Features & Benefits:
Durable, impact resistant polypropylene straight shell.
Curved top extends well over the head for added protection.
Helmet is fitted with a ratchet suspension head harness adjusts for head circumference, and the suspension with pin-lock adjustment for head height.
2" x 4-1/4" flip front lens consists of a polycarbonate clear cover spatter lens and an infrared green shaded lens for easy weld inspection.
Standard:
Complied with CE EN175
Complied with ANSI Z87.1